Alan Campbell
Fred Fuller Trumpet Chair
Trumpet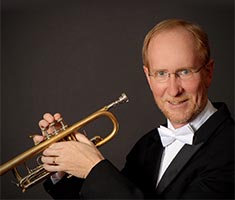 A member of the Milwaukee Symphony Orchestra since 2007, Alan Campbell has enjoyed a 30 year career that has reached from the classroom to the concert stage. Prior to joining the MSO, Alan held the position of Artist-in-Residence at the University of Wisconsin – Madison, where he performed with the Wisconsin Brass Quintet. Before joining the Madison faculty, he was a member of the Columbus Symphony Orchestra. Pursuing an active performing career, Alan has been involved in numerous recordings with the Milwaukee Symphony Orchestra, the Columbus Symphony Orchestra, and the ProMusica Chamber Orchestra of Columbus, as well as commercial studio productions for television, radio, and sacred music. He has performed with the National Repertory Orchestra, the Peninsula Music Festival, the New York Big Brass, and more recently as a member of the faculty of the Eastern Music Festival in North Carolina.
In addition to the University of Wisconsin-Madison, Alan has held teaching positions at the University of Wisconsin-Whitewater, and Otterbein College in Westerville, OH.
During the 1990.91 season, Alan assumed the position of acting second trumpet with the Philadelphia Orchestra under the baton of Riccardo Muti. During that season he performed, toured, and recorded extensively with the orchestra. In the summer of 2010, Alan performed with the Chicago Symphony Orchestra.
Alan holds a Bachelor of Arts in Economics from Oberlin College, and a Bachelor of Music in Trumpet Performance from the Oberlin College Conservatory of Music. He received his master's degree in Trumpet Performance from the University of Illinois at Urbana-Champaign.