Allison Lovera
First Violin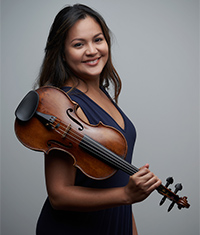 The Venezuelan violinist Allison Lovera has been recognized as a "versatile violinist whose performance is as a blast of emotions and colors combined with a sincere and honest approach to the music" (Joshua Dos Santos, conductor). Ms. Lovera had been awarded first prize at the Maurice Hasson Violin Competition and the Excellence Award from the Young Aragueno Artist Competition in Venezuela. Winner of the Concerto Competition at the Chicago College of Performing Arts in 2017, Farwell Trust Award of Musicians Club of Women 2018, Luminarts Cultural Foundation String
Fellowship Award 2018, Semi-finalist at Sphinx Competition 2018 and 2019, Winner of the Rudi E. Scheidt School of Music Concerto Competition in 2020, Chicago International Music Competition Rising Star Award, and winner of the Iscart International Competition Category E 2021.
Ms. Lovera had performed as soloist with multiple orchestras in Venezuela and the U.S including the Simón Bolívar Symphony Orchestra, Teresa Carreño Symphony Orchestra, CCPA Symphony Orchestra in Chicago, and the CMI Chamber Orchestra in San Antonio TX. In addition, she has performed multiple solo recitals around Venezuela, Costa Rica and the Chicago area including the Chicago Cultural Center "Preston Bradley Hall", the Steinway Piano gallery in Hinsdale, and Ganz Hall Roosevelt University.
As an orchestral musicians, Allison Lovera was part of "El Sistema" in Venezuela where she acted as a First Violin with the Simon Bolivar Orchestra and also served as Concertmaster of several orchestras including the Jose Felix Ribas Youth Orchestra, and the Teresa Carreño Symphony Orchestra of Venezuela (TCSOV). As a member of the TCSOV, Ms. Lovera had the opportunity to work with World renowned conductors including Sir Simon Rattle, Claudio Abbado, and  Gustavo Dudamel, in addition to going on several tours around Europe and Asia. Ms. Lovera also worked as a violinist of the Sphinx Virtuosi Chamber Orchestra, Sphinx Symphony Orchestra, formed part of the Memphis Symphony Fellowship, Chicago Sinfonietta Fellowship, Grant park Music Festival Fellowship, was a regular member of the Civic  Orchestra of Chicago and acted as Concertmaster of the CCPA Symphony Orchestra and sub Concertmaster of  Elmhurst Symphony Orchestra.
Allison Lovera has participated in recognized music festivals including Salzburger  Festspiele, Chautauqua Music Festival, the Aspen Music Festival and School, and the Lakes Area Music Festival. In addition, she has taken part in collaborative chamber music recitals as a fellow of Nexus Chamber Music Chicago, with 5th Wave Collective, along with CCPA faculty, Minnesota Orchestra, and the Pacifica Quartet. Allison Lovera Graduated with Honors from the Chicago College of Performing Arts under Almita Vamos guidance, got a Artist  Diploma as a student of Dr. Marcin Arendt, and previously was a student of the Latin American Academy in Venezuela. She recently finished a one year contract with the Minnesota Orchestra and is starting the season as a first violin section member of the Milwaukee Symphony Orchestra. In her spare time Allison is working on building an online private studio with Venezuelan violinists and enjoys trying out new food and restaurants, traveling, long walks, and dancing.