Beth W. Giacobassi
Contrabassoon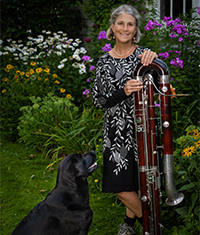 Beth Giacobassi was appointed to play contra-bassoon and bassoon with the Milwaukee Symphony Orchestra in 1982 and was also acting Assistant Principal for the MSO from Jan. 2002-June 2005. In the fall of 2001, she joined the faculty at UW-Milwaukee and became the Principal Bassoonist of the Milwaukee Chamber Orchestra.
Each summer she has been the bassoonist for the Washington Island Chamber Music Festival since 1994. Ms. Giacobassi received her Bachelor of Music Degree from the University of Michigan in 1982. She has performed in the Rome Festival Orchestra, the Colorado Music Festival, Bedford Springs Music Festival, the Ohio Light Opera Company, and the Berea Summer Theater.
She has also been on the faculty of Alverno College and UW-Parkside. She has appeared as a soloist with the Milwaukee Symphony, UWM Wind Ensemble, the University of Michigan Philharmonic and Wind Ensemble, UW-Parkside, and the Tahlia Chamber Music Concerts. She won the University of Michigan Concerto Competition and the Green Bay Young Artists Concerto competition.
She is active in the MSO ACE program, works with the Milwaukee Youth Symphony, and teaches privately in her home. She has recently completed 2 new DVD's: Bassoon Reed Making and Bassoon Fundamentals which is being sold nationwide.
She is married to Michael Giacobassi, a member of the first violin section of the Milwaukee Symphony. They have 3 children: Mario, Dante, and Gina.