Jon McCullough-Benner
Principal, Donald B. Abert Bass Chair
Bass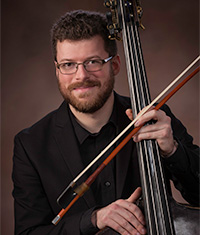 Joining the Milwaukee Symphony Orchestra as its Principal Bass in 2017, Jon McCullough-Benner is an avid performer and educator for the double bass. Coming from a musical family, his father is a former pianist, his brother played guitar and piano, and his grandmother was a former member of the Grand Rapids Symphony Chorus. Jon started studying music at a very early age on the piano prior to picking up the violin, drum set, guitar, bass guitar, and eventually the double bass.
A native of southwest Ohio, Jon studied with Mark Barnard and Cincinnati Symphony Principal Bass Owen Lee before beginning his undergraduate studies at University of Cincinnati's College-Conservatory of Music with Albert Laszlo. During his time at CCM, Jon also attended the Spoleto Festival in Italy as well as performing with the Aspen Festival Orchestra at the Aspen Music Festival. After graduating Summa Cum Laude from CCM in 2013, he continued his studies at Indiana University under the tutelage of L.A. Philharmonic's former Principal Bass Bruce Bransby. Jon was also an Associate Instructor of the double bass at IU, teaching non-major bassists the fundamentals of playing the instrument.
Before beginning with the Milwaukee Symphony, Jon served as Principal Bass for the Oregon Symphony Orchestra beginning in 2015. Jon has also performed with the Cincinnati Chamber Orchestra, Louisville Orchestra, Indianapolis Symphony, and the Cincinnati Symphony. In the summer months, Jon serves as the Assistant Principal Bass for the Grant Park Music Festival Orchestra.
Jon plays on an unlabeled Italian bass from the Brescian region, c. 1810.