Taylor Eiffert
Bass Clarinet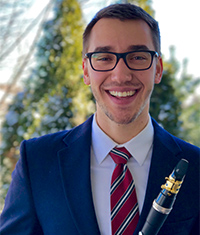 Originally from Dallas, Texas, M. Taylor Eiffert is currently the bass clarinetist of the Milwaukee Symphony Orchestra. He also regularly performs with the Santa Fe Opera and Santa Fe Chamber Festival. Prior to joining the MSO he was the 2nd clarinetist of the Winnipeg Symphony Orchestra.
Eiffert pursued his Bachelor of Music degree from Northwestern University where he studied with Steve Cohen and Lawrie Bloom.  He also received a Master of Music degree from The University of Southern California where he studied with Yehuda Gilad and David Howard. In addition to his university studies, he was a fellow at the Aspen Music Festival and School.
In his free time, Eiffert enjoys woodworking, coffee and hiking with his wife and dogs.