Beth W. Giacobassi
Bassoon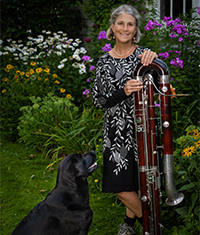 Beth Giacobassi was appointed to play contra-bassoon and bassoon with the Milwaukee Symphony Orchestra in 1982 and was also acting assistant principal for the MSO from Jan. 2002-June 2005. She was Professor of Bassoon at UW-Milwaukee from 2001-2021. Previously she taught at UW-Parkside and Alverno College.
Ms. Giacobassi received her Bachelor of Music Degree from the University of Michigan in 1982. She has performed in the Rome Festival Orchestra, the Colorado Music Festival, Bedford Springs Music Festival, the Ohio Light Opera Company, Berea Summer Theater, and enjoyed 25 summers with the Washington Island Music Festival .
She was in the small ensemble MSO ACE program for 25 years, has worked many years with the Milwaukee Youth Symphony, and teaches privately in her home. More recently she has enjoyed participating in the MSO Lullaby Project as a composer and arranger.
She is married to Michael Giacobassi, recently retired from the first violin section of the Milwaukee Symphony. She has three children, two grandchildren and enjoys volunteering as a Pet Therapy team with her English Lab, Koda.