Lynn Chappy Salon Series events feature an evening of outstanding music, lively conversation, and a cocktail bar. Mingle with performers and other symphony patrons as musicians and guest artists perform their personal favorites in private residences. Afterwards, learn about the artist's musical process over cocktails and conversation.
2022.23 Salons
October 20, 2022 | John Bian, violin
Hosted by Megan Holbrook and Eric Vogel, Northpoint
November 10, 2022 | Todd Levy, clarinet, Catherine Van Handel, bassoon, Taylor Eiffert, clarinet
Hosted by Gail and Jeff Yabuki, Fox Point
February 2, 2023 | Matthew Ernst, trumpet, and MSO Brass
Hosted by Andy Nunemaker, Downer Woods
June 8, 2023 | Jennifer Bouton Schaub, piccolo, and MSO Woodwinds
Hosted by Nora and Jim Barry, Northpoint
---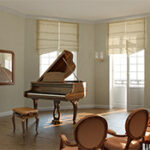 Salon Series with Jennifer Bouton Schaub and MSO Woodwinds
---
Tickets
$100 per person ($105.50 with sales tax)
Seating varies and is limited by each unique space.
In-Kind Support
Capital Grille
Downer Avenue Wine & Spirits
Central Standard Craft Distillery