wisconsin youth piano competition
The MSO and PianoArts Wisconsin are pleased to announce the results of the 2023 Wisconsin Youth Piano Competition. The competition took place on June 16, 18, and 19 at the Wisconsin Conservatory of Music in Milwaukee.
First Place: Alexander Bo, age 16, Middleton, WI
$1,000 Prize and the opportunity to perform with the MSO on a youth series next season.
Second Place: Paul He, age 13, Pewaukee, WI
$750 Prize
Third Place: Komei Okamoto, age 16, Brookfield, WI
$500 Prize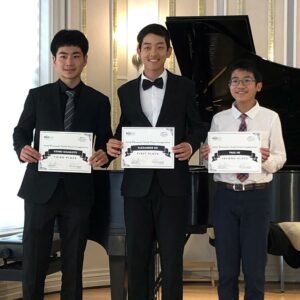 2025 Competition
The MSO and PianoArts Wisconsin will present the next biennial Wisconsin Youth Piano Competition in June of 2025.
The competition will be open to pianists between the ages of 10 and 16. Contestants must be Wisconsin residents to apply.
The 2025 application will be available in the fall of 2024. Please check back for details.
Proudly presented by the Milwaukee Symphony Orchestra and PianoArts North American Biennial Piano Competition.