Dietrich Hemann
Andy Nunemaker French Horn Chair
Horn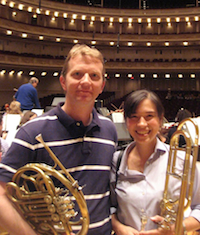 Dietrich Hemann has held the Andy Nunemaker French Horn Chair since 2008. He has previously been associate principal horn of the Barcelona Symphony Orchestra, assistant principal and acting principal horn of the Rochester Philharmonic Orchestra, acting assistant principal horn of the Grant Park Orchestra, and a member of Burning River Brass. He performed as soloist on multiple occasions with the Rochester Philharmonic and has appeared at numerous festivals including the Skaneateles Music Festival, Bravo! Vail Valley Music Festival, and the Peninsula Music Festival.
Dietrich has taught at the MasterWorks Festival, Eastman School of Music, Hochstein Music School, Nazareth College, and as visiting horn instructor at University of Wisconsin-Oshkosh.
A native of Albany, CA, Dietrich studied at the Eastman School of Music with Verne Reynolds and Peter Kurau, and at Rice University with William VerMeulen.
Dietrich resides in Shorewood, WI with his wife, MSO principal trombonist Megumi Kanda, and their boys Hans, Max, and Lukas.