Edo De Waart
Music Director Laureate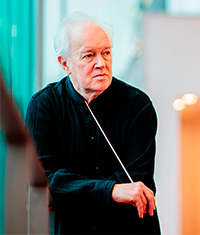 Throughout his long and illustrious career, renowned Dutch conductor Edo de Waart has held a multitude of posts with orchestras around the world, including music directorships with the Rotterdam Philharmonic Orchestra, San Francisco Symphony, Minnesota Orchestra, Netherlands Radio Philharmonic Orchestra, Hong Kong Philharmonic, Milwaukee Symphony Orchestra, Antwerp Symphony, New Zealand Symphony, and Sydney Symphony Orchestra, and a chief conductorship with the De Nederlandse Opera and Santa Fe Opera.
Edo de Waart is principal guest conductor of the San Diego Symphony, conductor laureate of both the Antwerp Symphony Orchestra and Netherlands Radio Philharmonic Orchestra, and music director laureate of the Milwaukee Symphony Orchestra. This season he returns to Netherlands Radio Philharmonic Orchestra and the Milwaukee, San Diego, and Fort Worth symphony orchestras.
As an opera conductor, de Waart has enjoyed success in a large and varied repertoire in many of the world's greatest opera houses. He has conducted at Bayreuth, Salzburg Festival, Royal Opera House, Covent Garden, Grand Théâtre de Genève, Opéra Bastille, Santa Fe Opera, and the Metropolitan Opera. With the aim of bringing opera to broader audiences where concert halls prevent full staging, he has, as music director in Milwaukee, Antwerp, and Hong Kong, often conducted semi-staged and opera-in-concert performances.
A renowned orchestral trainer, he has been involved with projects working with talented young players at the Juilliard and Colburn schools and the Music Academy of the West in Santa Barbara.
Edo de Waart's extensive catalogue encompasses releases for Philips, Virgin, EMI, Telarc, and RCA. Recent recordings include Henderickx's Symphony No.1 and Oboe Concerto, Mahler's Symphony No.1, and Elgar's Dream of Gerontius, all with the Royal Flemish Philharmonic.
Beginning his career as an assistant conductor to Leonard Bernstein at the New York Philharmonic, de Waart then returned to Holland where he was appointed assistant conductor to Bernard Haitink at the Royal Concertgebouw Orchestra.
Edo de Waart has received a number of awards for his musical achievements, including becoming a Knight in the Order of the Netherlands Lion and an Honorary Officer in the General Division of the Order of Australia. He is also an Honorary Fellow of the Hong Kong Academy for Performing Arts.