Heather Zinninger
Assistant Principal
Flute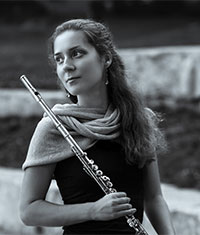 Heather Zinninger is Assistant Principal Flute of the Milwaukee Symphony Orchestra, having previously served as Acting Assistant Principal Flute for the 2016-17 season. Before coming to Milwaukee, she performed for five seasons as Principal Flute of the Louisiana Philharmonic Orchestra in New Orleans. She was featured as a soloist with the Louisiana Philharmonic Orchestra on several occasions, most recently performing Christopher Rouse's Flute Concerto in April 2017.
Heather has performed as a guest with the Chicago Symphony Orchestra, Houston Symphony, San Antonio Symphony, Buffalo Philharmonic, Rhode Island Philharmonic, and New World Symphony. She has been a prizewinner in several national competitions, including the National Flute Association's Orchestral Audition Competition where she was awarded first prize.
She shares her passion for chamber music with the Milwaukee community by regularly performing with and serving on the artistic board of Milwaukee Musaik.
A devoted educator, Heather strives to bring the joy and discipline of making music to her community. In Milwaukee, she performs with the MSO Colors of Music Ensemble in 2nd Grade classrooms as part of the Arts in Community Education (ACE) program and maintains a private teaching studio. She also regularly coaches young musicians in the Milwaukee Youth Symphony Orchestra and Wisconsin Youth Symphony Orchestra. While in New Orleans, she was Artist Teacher of Woodwinds at New Orleans Center for Creative Arts and Adjunct Professor of Flute at Xavier University of Louisiana. She also co-founded and directed NOLA Chamber Fest, an annual chamber music competition that serves teens through adults in New Orleans and the Gulf South region. She has served as performer, presenter, or adjudicator at events for young flutists with the National Flute Association, Wisconsin Flute Festival, Louisiana Flute Society, and Rochester Flute Association.
Heather earned a Master's Degree from Rice University's Shepherd School of Music and a Bachelor's Degree with highest distinction and a Performer's Certificate from the Eastman School of Music. During her summers, she has performed at Midsummer's Music Festival, Washington Island Music Festival, Lakes Area Music Festival, Madison New Music Festival, Tanglewood Music Center, Music Academy of the West, and National Repertory Orchestra.  She grew up in Louisville, KY and spent her senior year of high school studying at Interlochen Arts Academy. Her primary teachers include Leone Buyse, Bonita Boyd, Tallon Perkes, and Donald Gottlieb.
When not playing the flute, she enjoys taking brisk walks, hiking, gardening, doing yoga, studying the Alexander Technique, advocating for animal rights, and maintaining a vegan recipe website called Flutes and Veggies.