John Thevenet
Richard M. Kimball Bass Trombone Chair
Bass Trombone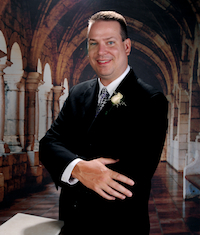 John Thevenet was born in Dallas, Texas, and attended High School at J. J. Pearce in Richardson, Texas, where he graduated in 1990. He then attained a Bachelor of Music Performance degree from Indiana University in Bloomington, Indiana, where he studied with Edwin Anderson, former bass trombonist of the Cleveland Symphony, as well as Keith Brown and M. Dee Stewart. In 1994, John moved back to Dallas where he began teaching and freelancing. John taught a studio of 60 students ranging from grades six through 12 as well as winning the position of bass trombonist with the Tyler Symphony Orchestra, Richardson Symphony Orchestra, and Dallas Wind Ensemble.
In 1998, John joined the New World Symphony Orchestra under the direction of Michael Tilson Thomas. During his tenure with the symphony, John studied with several guest teachers including James DeSano, Mark Lawrence, Milton Stevens, David Finlayson, Charles Vernon, and David Kirk. John also attended several music festivals including the Spoleto Festival in Charleston, South Carolina, Tanglewood Music Festival in Lennox, Massachusetts, and Pacific Music Festival in Sapporo, Japan.
In 2001, John became bass trombonist of the Naples Philharmonic Orchestra under the baton of Christopher Seaman and currently under the direction of Jorge Mester.
In January of 2011, John won the position of bass trombonist with the Milwaukee Symphony Orchestra.
John lives with his wife, Mylene, and step-daughter, Kaitlin.