Julia Coronelli
Principal, Walter Schroeder Harp Chair
Harp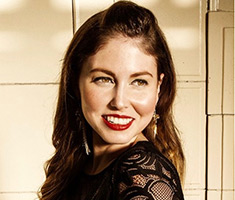 Born in Chicago, Illinois, Julia Coronelli is the newly appointed Principal Harpist of the Milwaukee Symphony Orchestra. Previously, she held positions as the Principal Harpist of the Sarasota Orchestra, as well as the New World Symphony in Miami Beach. Her playing has been described by The New York Times as "precise and shimmering", and as "exquisite," "exceptional," and "stunning" by The Miami Herald. She has performed in the role of Principal Harpist in many of the world's greatest halls, including Carnegie Hall (New York), Teatro alla Scala (Milan), Musikerverein (Vienna), Philharmonie de Paris (Paris), Kolner Philharmonie (Cologne), Philharmonie Luxembourg (Luxembourg), Teatro San Carlo (Naples), Teatro Maggio del Musicale Fiorentino (Florence), Lugano Arte e Cultura (Lugano, Switzerland), Bunka Kaikan (Tokyo), Symphony Hall (Birmingham, UK), Oriental Art Center (Shanghai), National Centre for the Performing Arts (Beijing), National Concert Hall (Taipei), Festival Hall (Osaka), and Orchestra Hall (Chicago). Performance credits include concerts with the Chicago Symphony Orchestra, New York Philharmonic, City of Birmingham Symphony Orchestra (UK), St. Louis Symphony, Milwaukee Symphony, San Diego Symphony, Rochester Philharmonic, The Florida Orchestra, and Phoenix Symphony. Coronelli joined the Chicago Symphony Orchestra on three recent tours under the direction of Riccardo Muti, including two international tours as Guest Principal Harpist.
Coronelli currently holds the position of Principal Harpist of the Britt Festival Orchestra in Jacksonville, Oregon. As an active participant in summer festivals, she has also performed as Principal Harpist at the Ravinia Music Festival (Illinois), Sun Valley Music Festival (Idaho), Colorado Music Festival (Boulder), Artosphere (Arkansas), Tanglewood Music Center (Lenox, Mass.), Music Academy of the West (Santa Barbara), and the Aspen Music Festival (Colorado).
An advocate of new music, Coronelli has appeared with such esteemed contemporary ensembles as CSO MusicNow, New Juilliard Ensemble, Axiom, Syzygy New Music, and as part of the Festival of Contemporary Music at the Tanglewood Music Festival. Additionally, she has performed as a solo artist with Music of the Baroque in Chicago, and was a member of the Civic Orchestra of Chicago.
Coronelli holds an MM from The Juilliard School, and a BM from Chicago College of Performing Arts. Her primary teachers were Sarah Bullen, Principal Harpist of the Chicago Symphony Orchestra, and Nancy Allen, Principal Harpist of the New York Philharmonic.