Margot Schwartz
First Violin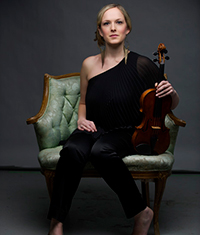 Margot Schwartz is a member of the First Violin section in the Milwaukee Symphony Orchestra, Assistant Principal Second Violin of the Santa Fe Opera Orchestra, and violinist in Milwaukee's esteemed Prometheus Trio.
A native of Oakland, California, she has appeared as soloist with the Milwaukee, Berkeley, and Oakland East Bay Symphony Orchestras.
As a chamber musician, Ms. Schwartz has performed extensively on both violin and viola; she especially enjoys playing with her MSO colleague Ilana Setapen in their duo, Bowing Rogue. Ms. Schwartz is a faculty member at the Wisconsin Conservatory of Music, where she loves working with young musicians in their Advanced Chamber Music Institute. She holds degrees from the Yale School of Music, where she was a student of Ani Kavafian; and the Northwestern University School of Music, studying with Roland and Almita Vamos.