Peter Szczepanek
Cello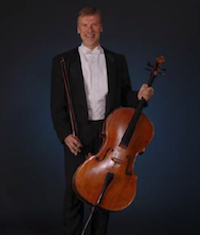 Peter Szczepanek began playing the cello at the age of 13 in Chicago, the city from which he hails. While studying with cellist Joseph Sciacchiatano of the Chicago Symphony, he trained for several seasons with the Civic Orchestra of Chicago where he coached with the renowned Chicago Symphony principal cellist Frank Milller in orchestral music. During the summers he also attended the Berkshire Music Center at Tanglewood and A.F. of M. Congress of Strings programs.
He freelanced extensively in Chicago for many years, performing with a wide range of ensembles including the Chicago Symphony Orchestra, the Chicago Philharmonic, the Chicago String Ensemble, the annual Evanston Bach Festival, and Corky Siegel's Chamber Blues Quartet, among many others.
A former member of the Florida Symphony Orchestra in Orlando, he also played a season with the North Carolina Symphony and is currently in his 11th year with the Milwaukee Symphony Orchestra. Additionally, for the past 28 summers, he has been a member of the Grant Park Symphony in Chicago where he curently holds the position of assistant principal cello.
Peter's non-musical interests include: astronomy, geology, aviation, fascination with both Lincoln and Einstein, as well as long-distance road trips. He favors journeys to explore the great western regions of the U.S. from where he recently returned after a 6000 mile trek to California and back.