Shinae Ra
Cello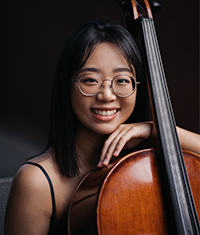 Cellist Shinae Ra joined the Milwaukee Symphony Orchestra cello section in 2023. Originally from Fayetteville, North Carolina, she began her cello studies at the age of 8 and has sustained a love for music ever since. Ra made her solo debut with the Raleigh Symphony Orchestra, and has since given solo performances in Bloomington, Indiana and New York City.
Ra received her Bachelor's degree from Indiana University and masters degree from the Juilliard School, and during her time as a student, Ra served as the principal cellist of the Juilliard Orchestra and several of Indiana University's Orchestras, as well as the National Repertory Orchestra. She has also participated in prestigious festivals around the world including the Spoleto Festival and Pacific Music Festival, as well as the New York String Orchestra Seminar. She has performed professionally with the Charleston Symphony Orchestra, Jacksonville Symphony Orchestra, and Columbus Indiana Philharmonic, and has performed in many of the world's most prestigious halls, including Carnegie Hall, David Geffen Hall, Lotte Concert Hall in South Korea, and Suntory Hall in Japan. Ra had the privilege of working with some of the world's most eminent conductors such as David Robertson, Michael Stern, Roderick Cox, Jonathon Heyward, Thomas Wilkins, Angel Gil-Ordoñez, John Williams, Steven Schick, Teddy Abrams, and Osmo Vanska, and additionally has worked with renowned groups such as Dover Quartet, Pacifica Quartet, American Quartet, and Arianna Quartet.
Ra's primary teachers include Emanuel Gruber, Peter Stumpf, and Natasha Brofsky. She is passionate about music and sharing the concert experience with a variety of audiences. Outside of playing cello, Ra enjoys cooking and baking.