Sonora Slocum
Principal, Margaret and Roy Butter Flute Chair
Flute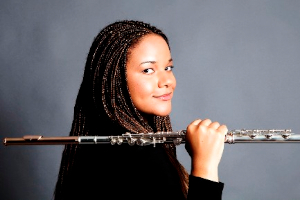 Sonora Slocum was appointed Principal Flute of the Milwaukee Symphony Orchestra in 2012 at the age of 22. "Slocum's solo work continues to impress. She plays with a clean, well-tuned sound, easily floating through the hall rather than slicing the air, always creating graceful phrases." (Shepherd Express) 
Slocum has appeared with The Philadelphia Orchestra and performed as guest principal with the Chicago Symphony Orchestra. She has performed and recorded as guest principal with the Orpheus Chamber Orchestra and is one of the Principal Flutists of the Philharmonia Orchestra of New York. Slocum has worked under such renowned conductors as Charles Dutoit, Christoph Eschenbach, Rafael Frühbeck de Burgos, Sir Simon Rattle, Edo de Waart, Otto-Werner Mueller, John Williams and David Zinman, among many others.
Sonora Slocum's recent performances of Carl Nielsen's Flute Concerto with the Milwaukee Symphony Orchestra earned her critical acclaim. "Slocum takes in vast quantities of air and spins it into gold. Hers is a dynamic range that whispers clearly and coherently and grows without tearing at the edges. Slocum has a HUGE sound...and a wizard's bag resplendent with technical prowess and musical freshness. Slocum played with full-blooded intensity, convincing artistry, and astonishingly, she did it from memory." (William Barnewitz, Urban Milwaukee)
Currently performing with the chamber music series It's Frankly Music, led by MSO Concertmaster Frank Almond, Slocum has collaborated with the contemporary group eighth blackbird on works by Jennifer Higdon, George Perle and Frederic Rzewski.
A native New Yorker, Slocum received her bachelor of music degree from the Curtis Institute of Music and her master of music in Orchestral Performance from the Manhattan School of Music. She attended the Music Academy of the West, as well as the Aspen and Pacific Music Festivals. Slocum studied with principal flutists Jeffrey Khaner and Robert Langevin, among many others.
An Extended Play (EP) is available for download exclusively at www.sonoraslocum.com featuring a chamber version of J.S. Bach's Orchestral Suite No. 2 in B Minor, a work Slocum also performed as soloist with the Milwaukee Symphony Orchestra during the 2013.14 season.
(Updated May/2016)