Darcy Hamlin
Horn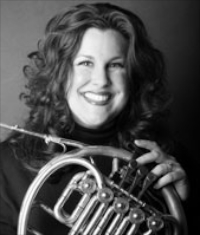 Darcy Hamlin has held the third horn position with the Milwaukee Symphony Orchestra since 2003 and is the founder of the Milwaukee Brass Quintet. She received her bachelor's degree in music education from the Oberlin Conservatory of Music and her master's degree in horn performance from The Cleveland Institute of Music.
While still in graduate school, Ms. Hamlin won an audition for third horn with the Akron Symphony Orchestra and later advanced to principal. During her freelance years, she served as principal horn with the Akron and Canton Symphony orchestras, associate principal horn with the Cleveland Pops Orchestra, and acting principal horn for the Cleveland Chamber Symphony. She also performed, toured, and recorded regularly as an extra player for the Cincinnati Symphony/Pops and Cleveland Orchestras.
Ms. Hamlin has performed as a concerto soloist with numerous orchestras including the Milwaukee Symphony, and spent three summers in the Colorado Rockies as Principal Horn of the Breckenridge Music Festival. She lives in Glendale with her husband, writer and editor David Lewellen, and their children, Benjamin and Sophie.