Kevin Pearl
Assistant Principal
Oboe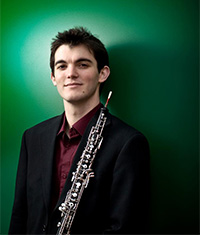 Kevin Pearl is the newly appointed assistant principal oboe of the Milwaukee Symphony Orchestra. He was a member of the New World Symphony in Miami Beach, Florida from 2012-2015, and toured with the orchestra to the Harris Theater, the Kennedy Center, and Carnegie Hall. During the summer, he performs with the Lakes Area Music Festival, and has also recently performed with the Verbier Festival, Spoleto USA, and the Aspen Music Festival.
As a chamber musician, Kevin performed regularly on the New World Symphony's Sunday chamber music series, including a performance of Mozart's Quintet for Piano and Winds with pianist Garrick Ohlssohn. He has also written, recorded, and performed with the indie popfolk trio The alt Default, and helped to curate a first-ever collaborative performance between members of the Miami City Ballet and New World Symphony.
Kevin was born and raised in Coral Springs, FL, and received his bachelor of music degree from the Eastman School of Music. He went on to earn a master of music degree from the Shepherd School of Music at Rice University. His primary teachers are Richard Killmer, Robert Atherholt, and Robert Weiner. In his spare time, Kevin enjoys exploring the many sights, tastes, activities, and events that his new hometown of Milwaukee has to offer.