Krystof Pipal
Associate Principal
Horn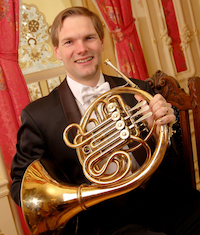 Associate principal horn with the Milwaukee Symphony Orchestra since 1999, Krystof Pipal grew up in Prague, Czechoslovakia. Starting on piano, Mr. Pipal switched to horn at twelve years old and at eighteen appeared on Czech national television with the Bohemia Brass Quintet as a winner of the Prague Concertino Competition.
Graduating from Prague Conservatory in 1994, Mr. Pipal accepted a scholarship to study at Harid Conservatory, Florida, graduating with honors in 1998. He also attended Sewanee, Bowdoin and Nove Straseci festivals.
In his career, Mr. Pipal was a member of Nova Philharmonia Portuguese, Prague Radio Symphony, Palm Beach Opera, Milwaukee Chamber Orchestra, among others. His teachers include Gregory Miller, Alois Cocek, Robert Rouch, and Bedrich Tylsar.