Samantha Rodriguez
Assistant Principal (3rd Chair)
Viola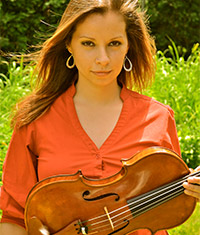 Samantha Rodriguez is thrilled to be a part of the Milwaukee Symphony Orchestra, serving as assistant principal third chair violist. Previously, she was third chair of the Rochester Philharmonic Orchestra and a member of the viola section for nine years. Rodriguez is also a frequent substitute with the Minnesota Orchestra and is principal violist of the Lakes Area Music Festival, of which she is a founding artist.
An avid chamber musician, Samantha plays in chamber ensembles for L.A.M.F. throughout the year for communities in various parts of Minnesota and has performed in groups for audiences across upstate NY, Colorado Springs, and central Florida. In 2012, after attending and being inspired by the International Viola congress, Rodriguez formed a viola trio with her two closest friends. Together, they decided to enter chamber music competitions and thus the Voila viola trio was born. The trio placed 2nd in the M.T.N.A. national chamber music competition and were the very first all viola ensemble to be finalists at the prestigious Coleman competition. Rodriguez looks forward to sharing her love of chamber music with her new Milwaukee audience.
As a soloist, Rodriguez has had the privilege of performing with the Eastman philharmonia, symphony and chorale, the Geneseo symphony and the L.A.M.F orchestra. Eastman School of Music being her alma mater, she received a bachelor and master of music, as well as a performer's certificate under the tutelage of George Taylor.
Teaching is also a very important part of Rodriguez's life. She has enjoyed working with students from age five to 80 either privately or at various institutions including the Eastman School of Music and community music division, S.U.N.Y. Geneseo, ROCmusic (an el sistema based program) and Hochstein School of music and dance, among others. Whether aiming to become a serious musician or doing it for fun, she believes everyone should have the opportunity to experience the joy of music!
In her spare time, Rodriguez loves to sing. She has enjoyed being a member of different choirs and relishes the chance to sing a gospel solo. She also likes to bake and spend lots of cuddle time with her very needy cat named Charles.