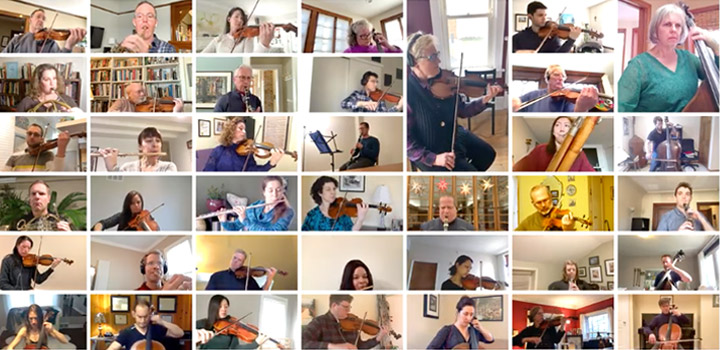 Stay Home, Stay Safe, & Stay Tuned: Entire Orchestra Unites for Virtual Performance Video
PUBLISHED
Tagged Under: 2019.20 Season, Community, MSO Musicians
The Milwaukee Symphony's smash hit social distance rendition of Elgar's "Nimrod" represents both the musicians' desire to perform and several technical feats by their sound engineer.
The symphony's last concert before the coronavirus pandemic shut down large gatherings was Saturday, March 14, to an empty Uihlein Hall and a live-streamed audience. But once the musicians were hunkered down in their homes, they were still looking for an outlet.
Associate concertmaster Ilana Setapen said that the idea arose from a text chain among herself, principal cello Susan Babini, principal oboe Katie Steele, violist Beth Breslin, flutist Jenny Bouton, and violinists Margot Schwartz and Dylana Leung. "Nimrod," the most popular of Elgar's Enigma Variations, was a good candidate for mass remote performance because "it involves the whole orchestra, and it sends a message of hope to the community," Setapen said.
Musicians unanimously voted to go ahead with the idea, and Jeremy Tusz, the symphony's audio and video producer, "was enthusiastic from the get-go," Setapen said. "We could not have done this without Jeremy. He put it together in a way none of us could."
Most participants recorded themselves using their mobile phones. Through their earpieces, they were hearing an MSO recording of "Nimrod" from several years ago, conducted by former music director Edo de Waart. The piece has many small variations of tempo, "and that was my only reservation" about choosing it, Setapen said, but everyone followed the audio precisely.
But when 64 large files landed in Tusz's inbox, he had work to do, starting with splitting the audio and video. "Every location has its own sound, and sometimes there was background noise or talking or kids or something," he said. "And some phone mics have a brighter sound or a darker sound, and some of them were placed closer or farther away. But when you add all these different musicians and stack them up on each other, there's this averaging that happens, and after some mixing, we had quite a pleasing sound."
Once Tusz had mixed all the audio files into a good recording of "Nimrod," he turned his attention to the video. He had asked the musicians to shoot themselves in good light with a view of their instrument, but he did not specify horizontal or vertical, and that sometimes left him with different shapes to piece together.
For the climactic shots of the entire orchestra, "we were quite lucky that we had one couple playing together," Tusz said. Sixty-five musicians participated, and several married couples shot themselves separately. But principal trombone Megumi Kanda and second horn Dietrich Hemann shared a frame, so Tusz could make a symmetrical eight-by-eight grid. "If we had had 63, I would have been really annoyed," he said.
Recording herself at home "made me listen and look at myself in a way I don't normally do," Setapen said. "I'm sure everyone did multiple takes. It was really fun. It was like playing with the orchestra, with a concert in your ear."
Tusz worked with the musicians on pacing the video, pegging the shots he used to the instruments with the most prominent parts at that moment. But his computer couldn't handle all 64 video files at once, so he had to put five or ten in place, leave it to process overnight, and check the result in the morning. He estimates he put in 40 hours on the four-minute video, but "I learned a lot. If we do it again, it'll be much faster."
The performance is dedicated to the memory of Walter Robb, a longtime MSO supporter and board member, who died of coronavirus last month.
A few days after the release, "the response has been incredible," Tusz said. Many people have contacted him for advice on similar projects, he said, and he is putting together a written guide. "I'm happy to share what I've learned. It's a time that we're allowed to be creative and experiment."
As the Facebook shares and YouTube views multiply, Setapen hopes "that it will reach people who have never been to a symphony concert in Milwaukee. We're so proud, and we plan to come back stronger than ever. Stay home, stay safe, and stay tuned."